After a gap of over six years, rain pounded Chennai and parts of Tamil Nadu on Sunday and is likely to extend till November 11 as the Indian Meteorological Department issues an alert. The National Disaster Response Force (NDRF) has deployed teams in three regions to help in rescue and relief operations.
The India Meteorological Department announced on Thursday that the cyclonic circulation over the southwest Bay of Bengal off the south Sri Lanka coast may not intensify into a low-pressure area. However, it would continue to bring a rain of very heavy intensity over south Tamil Nadu and gradually cover north coastal and adjacent districts till November 29.
A fresh season of heavy to very heavy rainfall with isolated extremely heavy rainfall is expected over Tamil Nadu and south Coastal Andhra Pradesh during 9-11 November 2021 under the influence of a likely formation of a fresh low-pressure area," IMD said in a statement, calculating that a depression over the east-central Arabian Sea is also taking shape.
WHY IS IT RAINING IN TAMIL NADU?
India receives most of its precipitation from two monsoon seasons, while 75 per cent of the rain comes from the southwest monsoon; the northeast monsoon covers the remaining. The northeast monsoon rains are triggered by changes in the wind patterns from south-westerly to the north-easterly as the southwest monsoon recedes.
The northeast monsoon dominates the parts of Tamil Nadu, Puducherry, Karaikal, Yanam, coastal Andhra Pradesh, Kerala, north interior Karnataka, Mahe and Lakshadweep. The 2021 northeast monsoon is coming on the back of a subdued 2020 season due to the La Nina situations, which are also developing this year. However, the monsoon has been known to have unpredictable behaviour and is intensifying so far.
In Chennai, most roads and bylanes were covered under sheets of water while there was water up to two feet in low-lying localities. At least 75 trees got uprooted here and these were cleared by civic personnel in Chennai.
WHY IS IT RAINING SO HEAVILY IN TAMIL NADU?
While Tamil Nadu is receiving rain thanks to the northeast monsoon, the intensity and frequency have increased due to the creation of a low-pressure area in the Bay of Bengal and depression in the Arabian Sea. Since the start of the Northeast monsoon in October, Tamil Nadu and Puducherry regions have experienced about 43 per cent excess rainfall.
According to the latest forecast by IMD, the depression over the east-central Arabian Sea moved west-northwestwards with a speed of five kilometres per hour during the past six hours and is about 840 km southwest of Mumbai and 790 km west-southwest of Panjim. "It is likely to move the west-northwestwards and maintain the intensity of a depression during the next 24 hours."
Climate change
According to meteorologists the unprecedented rains this year which began well before the scheduled arrival of the annual monsoon on the Kerala coast on June 1, is a sign of climate change showing its impact.
They have pointed out that both the water and surface temperature of the Arabian Sea has risen from the normal of 27 degrees to up to 29 degrees, which is causing the frequent formation of low-pressure areas and cyclonic circulations, resulting in heavy rains.
They have also warned that this could be the new normal for Kerala in the coming years. The three southern states are part of the Western Ghats, an extremely fragile ecosystem that also includes parts of Goa, Maharashtra and Gujarat.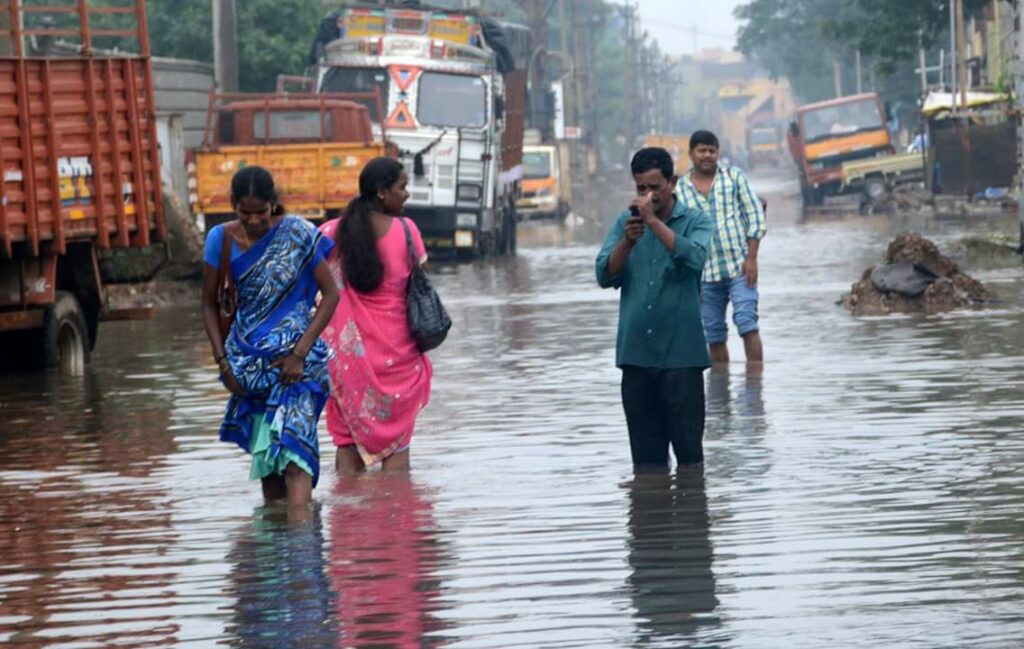 Recognised by UNESCO as one of the world's eight most important biodiversity hotspots, Western Ghats contains more than 30 per cent of all species of plant, fish, reptile, amphibian, bird and mammal found in the whole country.
The chain of mountains covers an area of around 140,000 sq. km. in a 1,600 km long stretch that is interrupted only by the 30 km Palghat Gap.
Torrential rainfall and floods have battered south Indian states in the past two weeks because of the northeast monsoon. Numerous people and animals have moved killed, trees uprooted, buildings collapsed in Tamil Nadu, Andhra Pradesh, Kerala, Telangana, and Karnataka because of the incessant rainfall. While the India Meteorological departments (IMD) has predicted more rainfall in Karnataka and Telangana this week as well, in other southern states the rainfall activity might recede from Sunday. "Decrease in rainfall action over south peninsular India from today for next 3-4 days," IMD weather said in a statement.
Tags: heavy rainfall, monsoon season, low-pressure area, extremely fragile ecosystem.