Everest Fibre Cement Boards adequately fulfil the promise of "One Board Many Applications". These Fibre Cement Boards made using Hatchek process enabled with unique HPSC Technology offers superior resistance to moisture, termite, and fire, unlike other conventional wood, based reconstituted material like Plywood, Particle Board, MDF etc. making it ideal for a variety of applications in the residential, commercial and industrial segment. Everest Fibre Cement Board, in combination with different substrate frameworks like timber, steel and aluminium, offers advanced dry construction solutions in both Interior and Exterior applications leveraging space utilization to the maximum while saving maximum time. A mixture of materials consisting of sand and fibres made from cardboard is what fibre cement board is formed.
A Fibre cement board is a type of prefabricated siding that protects the exterior of a home. Fibre cement is a mixture of materials that contains sand and fibres made from cardboard. There are both benefits and consequences to investing in fibre cement.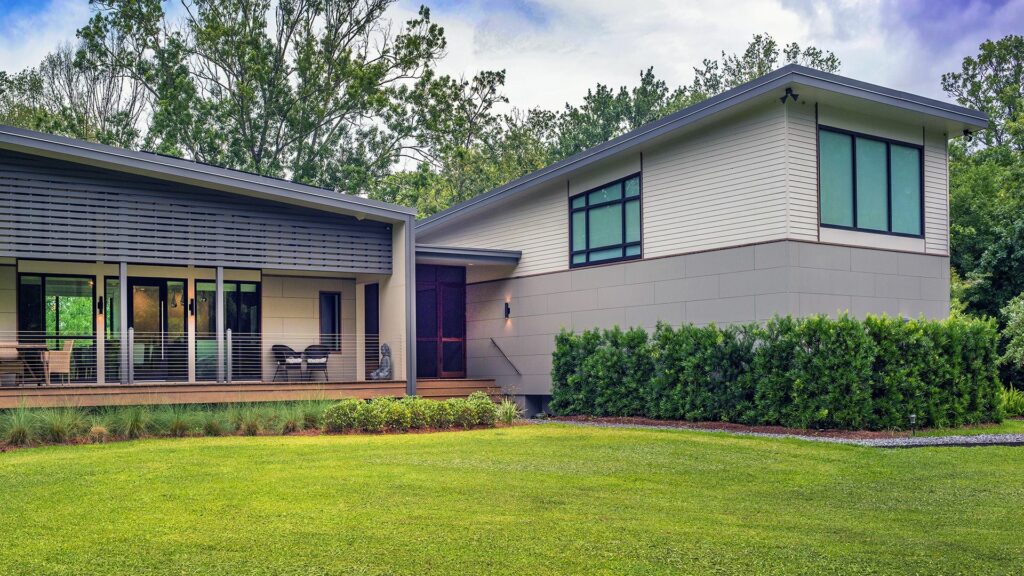 What exactly are fiber cement boards?
Fibre cement boards are durable, long-lasting, and low-maintenance siding materials that are used to cover the exterior of both residential houses as well as commercial buildings. These semi-rigid boards provide good protection and flexibility.
The panels are made using cellulose fibres, Portland cement, sand, water, and other additives which together make them long-lasting and durable. Keep in mind that the exact composition changes depending on the manufacturer. If you want to keep your fibre cement products eco-friendly, it's best to choose an arrangement that contains a large percentage of wood fibre from industrial waste. Also, fly ash is more eco-friendly than Portland cement. And, you should use low VOC paints, primers, and other sealants as sustainable options.
What is cement fiberboard used for?
Fibre cement boards are affixed to the exterior of a house or any other structure as siding. As said, it mimics masonry or wood, withstands wear-and-tear like concrete, and helps your home deal with some of the harshest elements of the environment.
A fibre cement board is a multifaceted building material that can be used for external siding, internal walls, false ceilings, and a range of other applications. Buyers should opt for quality fibre cement boards, as they are highly versatile and low care by design. They are composed of sand, cellulose fibres, and cement, and can withstand extreme temperatures, which makes them ideal for projects across different climatic conditions.
The cement present within fibre cement boards makes them resilient against pests and rotting, while also eliminating the existence of bacteria or mould.
Fibre cement siding is a product that affixes to the exterior of a house or other structure. It masquerades as masonry or wood, experiences wear-and-tear like concrete, and can help your home to survive some of the harshest elements of your local environment. Plants create this item by mixing Portland cement with wood pulp so that you can improve the affordability, durability, and looks of your property.
Advantages
Impact Resistant
Moisture Resistant
Termite Proof
Fire Resistan
Reviewing technical specifications – While there are several brands in the construction marketplace offering a wide range of fibre cement boards, buyers should review the technical specifications closely. The following parameters are vital to review, prior to buying fibre cement boards.
Thickness – Fiber cement boards and smartboards are available between 6mm to 20mm in thickness. It is important to buy the right board with the right thickness for your specific requirement.
Density – Fiber cement board density between 1300–1600 Kg/m3 is considered ideal, based on the requirement. Key metrics such as modulus of elasticity, modulus of rupture, and impact strength should also be reviewed for each brand.
Water absorption – A close to 33% of water absorption percentage is ideal across the board for fibre cement board manufacturers.
Fire resistance – Buyers should review the ignitability, fire propagation index, and surface spread of flame, to gauge protection class and duration of fire resistance. Class P for ignitability is considered ideal in the market.
Freeze-Thaw Resistance – Boards should pass freeze-thaw opposition of 50 cycles.
Acoustic insulation – Fiber cement boards that provide around 30 dB of sound insulation are preferred by buyers.
Moisture, fungus and bacterial resistance – Manufacturers provide complete assurances of moisture, fungus, and bacteria resistance. It is important to review their testing practices.
Application
This board is resistant to rot, immune to attack by pests and insects, stands up to extreme weather conditions, low maintenance and saves money, is fire-resistant, requires Less carpentry work at the site, provides high thermal insulation and good acoustic insulation.
Edge Profile
Square, Beveled
Surface Finish
Smooth
Weight
8.91 kg/m2 for 6 mm
Acoustic Property
34 dB for 8 mm
Fire Property
Non-combustible
As per:
-BS 476 Part 4
-EN13501: Part-1 (A1-s1-d0)
-ASTM E84-18b (Class A)
Board Type as per IS Code
Type B Category III
Recommended Fixing System
Recommended with Substructure
Technical Specification
Internal / External Walls
Internal Wall linings
False Ceilings
Eaves & Soffit Lining, Facia and Duct Coverings
Pre-fabricated Shelters
Roof Tile Underlay
Flooring Substrate
Is fiber cement sheeting waterproof?
Fibre cement cladding is water-resistant, not waterproof on its own. That is to say, it's not affected by exposure to water. And, it certainly won't disintegrate. You can always waterproof your fibre cement boards with the help of membrane waterproofing treatment.
Do termites eat fiber cement?
Fibre cement siding is termite-proof. The presence of cement, in the wood pulp, makes it difficult for pests to chew through the boards. Basically, the termites are unable to access the wood part.
Pros and cons of fiber cement board
Fibre cement board siding is one of the best sidings to protect the exterior of a home. But, like every building material, it has both advantages as well as disadvantages. It's a good idea to weigh all your options before making an informed decision regarding whether to invest in fibre cement siding or not.
Pros
Fiber cement board is a durable and long-lasting siding material. It can withstand harsh weather — protecting your home from cold, wind, hail, and rain damage. In fact, it can withstand hurricane-level storms too.
Another plus point is that the material is not flammable. Since fire damage is one of the biggest worries of homeowners, installing fiber cement is one of the best choices.
Fiber cement boards can look like wood planks or wood shingles — at a much lesser cost. Moreover, this type of siding is available in a variety of paint colors.
Fiberboard cement siding offers good protection from insects, rotting, and mold or mildew. Especially in the area between the outside and interior walls. This also helps to lessen the presence of allergens within the home.
Cons
Fiber cement board installation is a costly process due to the high labor costs. In fact, the installation cost can be two to three times more than aluminum
Investing in fiber cement siding is not a good idea if you're planning to sell your house within the next five years.
Fiber cement siding needs repainting after a few years, unlike vinyl or aluminum siding.
Versatility in Style
Fibre cement offers a striking beauty just in the material makeup alone. Compound the natural looks with advanced manufacturing methods and the options for curb attraction aesthetics are beautiful.
Largely Weather Resistant
The fire resistance of fibre cement is great for the safety of your home and family but to get the most out of the investment the product has to last a while. Because of how it is made, the fibre cement is impact resistant to damage by hail.
Resistant to Warping and Rotting
Fibre cement looks like wood but doesn't act like it. This is a good thing when it comes to absorbing moisture from rain, snow, and heat and humidity. Wood will traditionally swell, warp, and rot which significantly limits its life span but that is not an issue with fibre cement.
Fiber Cement Cuts a Variety of Ways
Using either a dedicated sheer or a drill attachment cuts the material slower without kicking up anywhere near the amount of dust as a circular saw. Plus, even circular sawdust attachments do a great job of collecting airborne particles without sacrificing cut speed.
Great Warranty
Many household building products boast about their longevity but do little to back up that claim. Shingles are a great example, offering a 15-year warranty but one that is prorated to pennies on the dollar of the original purchase.
Technical Specification
| | |
| --- | --- |
| Thickness | 04 mm, 06 mm, 08 mm, 10 mm, 12 mm, 16 mm, 18 mm, 20 mm |
| Size | 595 x 595, 1220 x 1220, 1830 x 1220, 2440 x 1220, 3050 x 1220mm |
| Material | Fibre Cement Board |
| Brand | Everest |
| Density | Greater than 1200 Kg/m3 |
Technical Data
When buying fibre cement boards, it is important to review the technical specifications mentioned by the manufacturer, as well as understand the reputation of the brand in the industry. With each manufacturer following its own manufacturing and engineering processes, it is essential to research the testing protocols implemented as well. BuildSupply offers buyers multiple types of fibre cement boards, that offer superior performance and durability.