Prime Minister Narendra Modi on Monday announced a bold pledge that India will achieve net-zero carbon emissions by 2070 and asserted that it is the only country that is delivering in "letter and spirit" the commitments on tackling climate change under the Paris Agreement.
Addressing the world leaders at the High-Level Segment for Heads of States and Government' at the UN COP26 underway at Glasgow, Prime Minister Modi said India is working hard in fighting climate change and it will show results.
Modi also said that India is putting climate change at centre of its policies and stressed on the need to include climate adaptation policies in school syllabus to make the next generation aware of the issues.
"Today the entire world acknowledges that India is the only big economy in the world that has delivered both in letter and spirit' on its Paris commitments. We are making all possible efforts in a resolute manner. We are working hard and we will show results, the Prime Minister said in a much-anticipated address.
The talk of reducing carbon emissions to reduce pollution became outdated. Now the matter is happening to net zero. At the COP26 summit in Glasgow, Prime Minister Narendra Modi put forward a new word about it, LIFE ie Lifestyle for Environment. Prime Minister Modi has net-zero He talked about making it a Jan Andolan. He kept five nectar elements punctuated from India. In this, India told its complete plan regarding net zero.

What is net zero-emission? How different is reducing carbon emissions? Why is India opposing this?? What will be the effect on India by accepting the net-zero concepts?? let's know…
What is net zero emission?
Net-zero emission does not mean zero emission of greenhouse gases, Rather balancing greenhouse gas emissions from other works. Overall creating an economy, In which the use of fossil fuels is equal to no. Other things that emit carbon are also used very rarely.
Overall, you can say that you should have the arrangement to absorb as much carbon as you are producing. For example, tree plants absorb carbon dioxide from the air
If a certain amount of carbon is emitted from a company's factory and the company plants so many trees that it can absorb as much carbon, then its net emission will be zero. Along with this, companies will get similar benefits by planting wind and solar power plants Can. The same applies to the country.
If a country has more sources of carbon absorption than carbon emissions, then its net emission will be negative. Right now, only two countries in the world are Bhutan and Suriname, whose net emission is negative. The major reason for this is the greenery and low population present in these countries
Why is it being done about net zero??
Experts say that if greenhouse gases were emitted in a current way, So by 2050 the temperature of the earth will increase by two degrees. If this happens, there will be a severe drought, there will be a devastating flood. Glaciers will melt, The water level of Sumdra will increase. This will drown many cities along the sea in water and erase their nomination
Earth's temperature has not increased, so all these exercises are happening. In the recently concluded G-20 Summit, it has been agreed to limit this rise of Earth temperature to 1.5 degrees by 2050 in the countries involved
How different is net-zero emission from reducing carbon emissions?
Till a few years ago, there was an emphasis on reducing carbon emission in the rich countries of the world. These countries considered reducing it from 2050 to 2070. These countries have been responsible for the highest carbon emission for the last several decades. Also, this country is global warming and climate are most responsible for the crisis.
In the last few years, experts have come to the fore that just reducing emissions will not work. After this, carbon neutrality started being talked about in all countries
So is there no focus on reducing emissions now??
In the net-zero formula, a country is not given the target of reducing emissions. It only insists on taking the emission level to zero. There is a relief change in the context of developed countries. After the arrival of this formula, equal responsibility on every country Will be.

Why has India been opposing this??
Environment Minister Bhupendra Yadav recently said that the net-zero target is not the solution. He said that rich countries have to take their historical responsibility. although, In the current era, India ranks third among the countries with the highest emissions of greenhouse gases. China and America emit more greenhouse gases than India
although, Historically, India has had a total share of carbon emissions of only 4% since 1850. This is the big reason for India's opposition. India believes that its economic growth will slow down if it agrees to net zero. With this, his Poverty alleviation program will also be affected. India believes that the Net Zero concept is also against the UN's Climate Convention
What will be the effect on India by accepting the net-zero concepts??
The biggest effect will be on the electricity burning in your house. Right now 60% of the country's energy needs are met by thermal power. The use of coal will be heavily affected by the implementation of the net-zero concept. This is the reason for India's opposition. India says That net-zero is not possible until the patent of clean technology is transferred to developing and under-developed countries. When this happens, these countries will move towards a clean economy
India claims that the Green Climate Fund created in 2016 was also not very effective Because rich countries did not help green technology as promised and $ 100 billion by 2020. although, Prime Minister Narendra Modi has announced that by 2050 the Indian railway will achieve the target of net-zero emission. This is the only one to date associated with Net Zero in India
What else will India do about net-zero??
India was still opposing Net-Zero. For the first time on Monday, India presented its entire plan on Net Zero under the name Panchamrit. Prime Minister Modi introduced it in Glasgow. Which is so…
First: India will deliver its non-fossil energy to 500 GW by 2030
Second: India will meet 50% of its energy needs by renewable energy by 2030.
Third: India will reduce the total projected carbon emission by 1 billion tonnes by 2030
Fourth: India will reduce the carbon intensity of its economy by 45% by 2030
Fifth: By 2070, Net Zero will achieve the emission goal. Everyone knows that the promises about climate change financing have proved hollow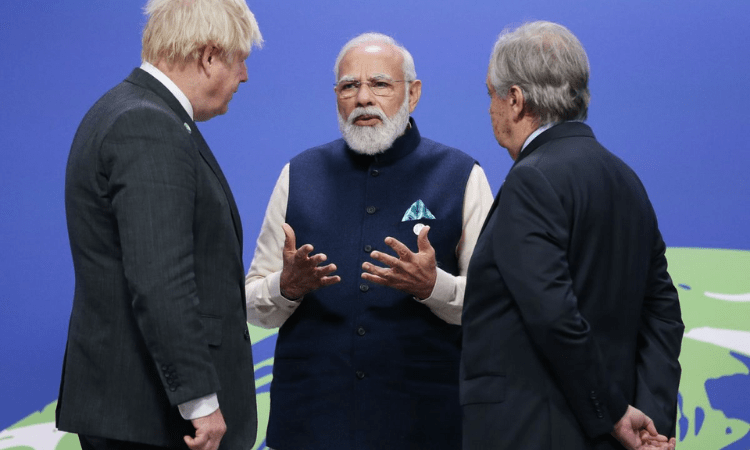 How many countries are in support of net-zero?
192 countries of the world are part of the UN Climate Convention. Of these, 137 countries are supporting Net-Zero. They account for 80% of the total greenhouse emission. These 137 countries also include China and the US, which have the highest carbon emission. China by 2060 Net Zero Emission is targeted. Germany and Sweden until 2045, Austria by 2040 Finland by 2035, Uruguay aims to emit net zero by 2030. Right there, Most countries, including the US, have targeted defense of the Net Zero Emission by 2050.

Why are the countries of the West so excited about Net Zero??
Environmental experts give two reasons behind this. First – Most countries in the West, especially Europe, have moved from fossil fuel to clean and green fuel economy. Therefore, achieving the goal of net-zero to these countries will not be heavy financially. According to the International Energy Agency, Europe's countries' dependence on fossil fuels has been reduced by less than 50% With this, these countries are seeing a big business opportunity in this concept, as these countries have green and clean technology.